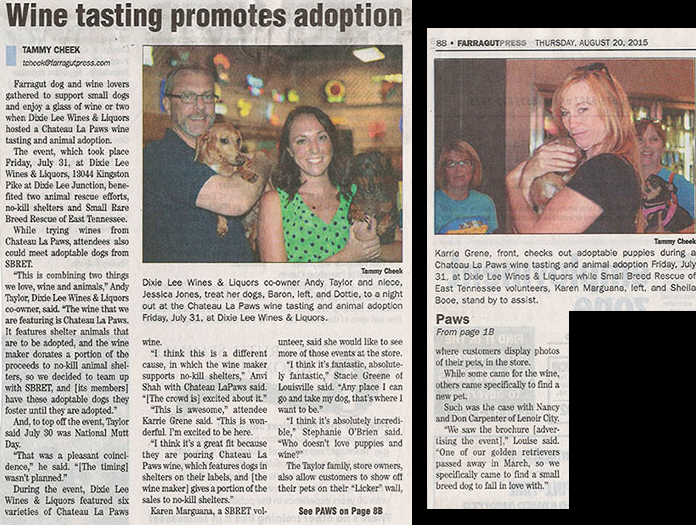 In Puppy Love: New Varietals Find "Furrever" Home in Chateau La Paws™ Wines Portfolio
SONOMA, Calif., Sept. 29, 2015 /PRNewswire/ -- Chateau La Paws™ Wines expands its portfolio today nationwide with four new wine varietals and a sustained mission to support rescue dogs in need, helping them find a permanent chateau of their own. The new varietals, Cabernet Sauvignon, Sauvignon Blanc, Merlot and Sweet Red Blend, offer a deeper portfolio for wine enthusiasts to explore alongside their favorite meals while supporting their furry friends.
"Through the outpouring of support from consumers sharing their love of the wine and their amazing rescue stories, we knew we had to create four new varietals featuring even more special ...
Continue reading at: Food Drive
REVIEW: Chateau La Paws Red Wine Blend by Rosenblum Cellars
Cute puppy dogs on labels are of course eye catching, but this bottle was like visiting an old friend. I remember when this wine first came out and I hadn't seen it in a while, so as the story goes…it just followed me home that day.
BEHIND THE LABEL
Behind the label is a man I had the pleasure of meeting a number of years ago. Kent Rosenblum, who many may not know was a veterinarian in the early 1970's before diving into the wine industry and founding his namesake winery in 1978 with his wife Kathy. Though Kent Rosenblum never had vineyards of his own, he is a passionate and charismatic guy who has some very long standing relationships with growers throughout California.
Though most of us may have known the brand for its Vintner's Cuvee Zinfandel, Rosenblum Cellars actually had numerous other tiers of wines from some very prominent growers of Zinfandel throughout California...
Continue reading at Wine Cooler Direct
Just in Time for "Yappy Hour": New Chateau La Paws Wines Get Top Barks from Wine and Dog Lovers
SONOMA, CALIF. (Feb. 10, 2015) – Chateau La Paws™ Wines, a newly re-launched wine brand, was released today combining the company's love of dogs with delightful wines to create a delicious, easy drinking wines with a purpose. The mission is simple: wine lovers joining DC&E in supporting rescue dogs in need, helping them find a permanent chateau of their own.
With three varietals, including Chardonnay, Pinot Noir and Red Wine Blend, Chateau La Paws™ Wines are perfect for pairing with everyday meals, enjoying while spending time with your best friends or sharing with fellow dog lovers. However, with a mission to help the thousands of rescue dogs across the country find fur-ever homes, Chateau La Paws™ is more than great wine
Through an official national partnership, Chateau La Paws™ Wines proudly supports North Shore Animal League America (NSALA), the world's largest no-kill animal rescue and adoption organization. Since 1944, NSALA has placed more than 1MM animals in happy homes, an effort that will be further bolstered by a $100,000 donation from DC&E...
Continue reading at PR News Wire